Our Mission
Business Licenses, LLC offers business license content, software, management, and services that automate and streamline business license compliance for thousands of large and small clients. Our sizeable staff excels in state and local government compliance, research, licensing laws and regulations, software, systems, web development, and customer service.
Our Credentials
Our Small Business Customers
Our customers come to us from all over America. They come from both large coastal cities and small towns. They find us through word of mouth and through our trusted partners like LegalZoom and Bank of America. They appreciate the quality of work we provide. They are now proud business owners taking part in and contributing to the American economy. Confident that we take care of their license compliance, they can instead focus on growing their businesses.
Our Enterprise Customers
We are proud to provide software solutions and fully-managed services to hundreds of the largest corporations in America. Our client base includes nationally known food service companies like The Cheesecake Factory and Planet Hollywood, retail chains like H&R Block and PetSmart, financial institutions like Bank of America and Key Bank, entertainment companies like Regal Cinemas and AMC, and every other industry you can imagine.
Our Repository of Business License Data
Underlying our offerings is our huge repository of current license and permit governmental data, including business license and permit information from all federal, state, county, and municipal licensing authorities across the entire United States, developed through more than two decades of R&D.

The repository includes business license and permit requirements, rules & regulations, statutes, licensing authority contact information, and hundreds of thousands of pages of license and permit forms, instructions, schedules, and other associated documents. Our research teams are in constant contact with every licensing authority, staying on top of the many ongoing changes, and bringing our customers the most up-to-date license and permit data on a silver platter. Our professional staff leaves no stone unturned in obtaining the most in-depth, extensive, and wide-ranging business license and permit information from licensing authorities at all levels of government.
Our Security Protocols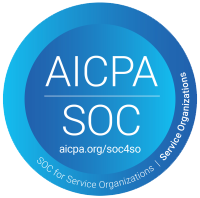 We are Type 2 SOC 2 compliant. That means our company meets the criteria for the security, availability, and confidentiality principles set forth by the American Institute of Certified Public Accountants (AICPA). We offer the most stringent security available today to handle both customer communications and customer data. We use SSL-128 encryption, public key/private key encryption, https, and account code encryption, with further offline storing of important data. We also use the best levels of backup and redundancy to ensure the security of our customers' data.
Our Origins
The founders of our company, our President David Polatseck and our Vice President Abe Brach, have extensive and illustrious backgrounds in creating software to automate state and local government compliance. In their last venture, David & Abe created the distinguished line of sales tax software known as ZIPsales®, ZIPcomm®, and ZIPutil®. These systems automate sales tax compliance for many of the Fortune companies, supplying them with sales tax systems, data, and forms. The entire sales tax line was eventually bought by the leading tax publisher in the U.S., CCH INCORPORATED (ticker symbol WTKWY.PK). CCH US is part of Wolters Kluwer, a global information, software, and consultancy provider with over 19,000 employees worldwide and annual revenues of £4.3 billion (2016).
* ZIPsales®, ZIPcomm®, and ZIPutil® are registered trademarks of CCH INCORPORATED